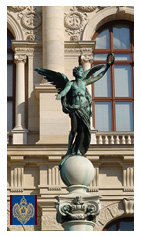 Imperial Productions ®
Custom Solutions
Design & Fabrication
of Architectural Elements
1)

2)

3)

4)

CUSTOM PILASTERS
1)

2)

3)

custom legs

custom kitchen posts
Imperial's Directive
We are a Design House, a coordinator that orchestrates a client's design concepts into reality.
Custom elements are produced as private commissions in association with Martin Richards
Design & Contracting Inc. This award winning design firm creates designs for architectural
elements in historic restorations, for unique commissions, or for complete architectural plans.
Designs are then tendered by various quality manufacturers.
As a courtesy, Imperial co-ordinates all international shipping of goods.
We accept commissions for architectural elements for interior or exterior application.
Imperial is your complete source for architectural products and innovative design commissions.
How to Order Products 1-800-399-7585 416-264-6096
* All Prices & specifications in this website subject to change without notice
* Prices are net, Freight, Taxes & Duties charged where applicable otherwise client is responsible for remittance
* Measurements are approximate only, Final Product may vary from this website
COPYRIGHT MRDCI Martin Richards Design and Contracting Inc, Martin Richards DesignTM
and Imperial Productions® Feb 2018 all rights reserved
Last Update JUL-20
custom architectural products, custom architectural elements, rotted bases, custom domes, custom ceiling medallions, bendable molding, flexible molding
flexible ceiling medallions, custom store fronts, custom house fronts, custom pediments, custom carvings, hand carvings, custom furniture legs,
spindle reproduction, broken spindles, broken balusters
custom columns, custom column covers, replacement architectural elements, historic reproductions, Toronto, Canada, Buffalo, New York